Four Lessons for a New Entrepreneur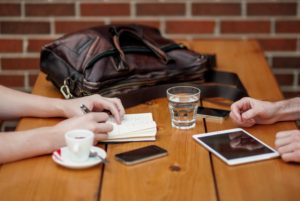 Wow, just like that Moore Creative Consulting has survived the seven months! With blood, sweat and tears, my dreams are slowly unfolding before my eyes and none of it would be possible without an incredible support system. As a young entrepreneur, I've heard every type of feedback from extreme support to questioning my career path, thoughts of me being too young for a business to assumptions that since I offer a service, it must not be that hard.
The truth is, I've felt all emotions and considered all doubts – but, each time I come to the same conclusion: I love what I do, would rather write than sleep and thrive on the stress of putting myself out there with each item I create. Pinterest searches turn into social media research, movie nights become a chance to read case studies and my morning routine a scan of the news. I eat, breathe and sleep Moore Creative Consulting because I love my clients and enjoy seeing a smile on their face when their brand is strengthened and shared with the world.
Each day of these last months have been a learning curve and has challenged me in a way I've always craved, here's what I've found:
Organization is Key:
At school I was always considered the organized one, but when it comes to starting a business, everything is new. Organizing invoices, meetings, client work and your own marketing is a difficult task. Paper agendas don't seem to work because I don't always have one in front of me, a calendar on the wall also doesn't work well because I'm not always in the office. Finding what works and doesn't work is a stressor which will keep you up at night. Most people will say to stop stressing and get a good night sleep. I say, stay up all night until you figure it out and then get a good night sleep the rest of the week! Google Calendar has been a life-saver, it is with me everywhere (laptop, iPad, iPhone) and my family members can be added so they can see when I have a spare moment.
My greatest piece of advice is to plan time for yourself. As a business owner, you'll never stop working. So please, take this advice and plan a couple hours each week for yourself. Whether it be a trip to the nail salon, the mall or a lunch date with a friend, take time to refresh.
A Contract is Always Needed:
Your business is your baby, and you definitely want to protect it. With all of the time you spend growing and nurturing your company, why waste time on projects without getting paid for your efforts. Create and use a contract – always – period.
When making your contract, think of all the things that could potentially arise. Topics such as, quality, etiquette, taxation, timeframes etc should be included. I found a quick Google search was a good way to find layout and design options. As long as it has a date and signatures from all parties, you're set!
You Can't Please Everyone:
You've literally heard this since you were young, it has been ingrained into you as a time-honoured belief. This statement, 'you can't please everyone,' is 100 percent true and the absolute hardest thing to accept. When you run a business, everything you put out, from a piece of work, to social media post or advertisement, each is a tiny bit of your business, of your heart and soul. So when you can't seem to please someone, you are hurt, beaten and battered to a crisp. First your heart races, you get flushed and then you get defensive.
I say go ahead and scream, go for a run or take a time-out because it's a coping mechanism, a mourning period. Negative feedback is the most important piece of ammunition you can have. Use this as a way to improve, your business should always be changing and morphing into its best possible version. All feedback, positive, negative and neutral will guide your plans, judgements and protocols.
On this note, I also believe it's important to check in with your clients/customers. Listen to their thoughts and suggestions. If they really liked something, ask why. If they weren't sure on something, ask why. If they had a lot of revisions on a project, as why. Feedback will truly light the way, so cherish it and utilize it to the best of your ability.
Spread your Name:
The moments when I've reached out thinking nothing would develop have been the times when new contracts have come through. This goes to prove that you should be yelling, sharing and promoting your name, everywhere and anywhere. When you're new to business, it's crucial that you get word of mouth going.
Hand your card to the barista, the person you met at a Christmas party, a friend of a friend. Give some business cards to your parents, your siblings, significant other and best friends – you never know who they'll meet! Always have your ears open for an opportunity to share who you are and what you do. Being social and networking is just as important as invoicing, as it is the best way to keep new business flowing.
Well that's it, you've read four most important things I've learned in last seven months. If you have any questions or just want to chat, send me an email, I'd love to hear from you!